Oracle Fusion Middleware
Oracle Fusion Middleware is a Java based software which is considered complete, open, integrated and best-of-breed technologies. The foundation of Oracle Fusion Middleware software is Oracle WebLogic Server—an application server that incorporates clustering and caching technology, which increases application reliability, performance, security and scalability. Oracle Fusion Middleware can enable you to maximize the processes and applications that drive your business today and provide a foundation for innovation in the future.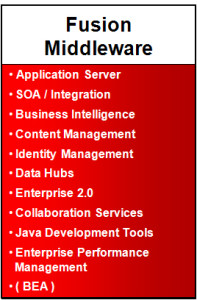 ANR's technical team has years of experience, expertise and a proven track record of helping its clients' in architecture, deployment, integration and optimization of Oracle Fusion Middleware solutions with other applications such as Oracle E-Business Suite, SOA suite and Oracle Identity Management. We can install Fusion Applications on on-site data centers or run them in the cloud using Oracle Fusion Middleware running on Oracle Engineered Systems.
ANR can help with integrating Oracle Fusion Middleware solutions with the following functional and technical areas:
Application Server, Cloud and Exalogic
SOA Suite and Business Process Management
Business Intelligence
Identity and Access Management
Web Portal, Content Management
Oracle GoldenGate and Oracle Data Integrator
Oracle JDeveloper