E-business Suite
Oracle E-Business Suite (EBS) provides organizations with a global business foundation that reduces costs and increases productivity through a portfolio of rapid value solutions, integrated business processes and industry-focused solutions. Whether it's global financials, lean manufacturing, regulatory compliance or web marketing, Oracle EBS supports it.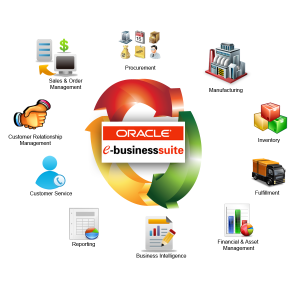 ANR's experienced consulting team can help rapidly-growing organizations or enterprises with implementation, rollout or upgrade the ERP system across businesses and geographies and also help migrate from legacy systems to Oracle's proven EBS system.
ANR's team has been helping organizations of all sizes leverage the power of Oracle E-Business Suite to achieve effective aligning of people, processes, data and technology to keep in pace with their existing demands. The solutions are delivered by Oracle professionals who have sound business acumen and technical expertise across multiple domains.
ANR offers expertise in the core areas of Enterprise Management i.e., Financial, Human Capital, Manufacturing, including other modules. We help in efficient planning, designing, developing, deploying and implementing ERP solutions, which enables our customers to successfully achieve their business goals and realize the desired business benefits.
ANR delivers the following services as part of our EBS service offering:
We offer flexible implementation methodologies that fit the deployment model of choice. The latest methodologies, the best talent in the industry along with a leadership team committed to client's success makes ANR the right choice to help lead your project.
Oracle Corporation's de-supports notices for previous versions of Oracle Applications has made it mandatory for organizations with previous versions to upgrade to the latest version, and utilize the benefits of new features provided by Oracle. However, upgrading an existing system raises concerns like system stability and performance tuning, costs, downtime potential, which are handled by ANR in a way to minimize risk for organizations.
Based on Oracle's best practices as well as our rich experience in previous engagements, ANR can assist customers in organizing the appropriate strategy to minimize downtime and other risk factors during the upgrade process.
Over the years, ANR has developed extensive expertise in implementing, maintaining, and supporting Oracle E-Business Suite and applications to help customers gain significant cost savings and enhance service quality. Organizations can leverage our best practices, mature processes and rich experience to optimize applications, maximize resource utilization, improve efficiencies, and continuously improve processes.