Business Intelligence
In today's competitive business environment, quick decision making is the key for organizations to survive and expand. Information management and integrated insights into the business performance, analysis, and informative reports help organizations make real-time and meaningful decisions.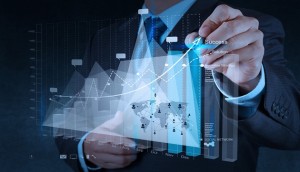 Oracle Business Intelligence Enterprise Edition (OBIEE) is a robust and powerful Business Intelligence platform, integrates seamlessly with Oracle/ non-Oracle data sources, is enabled with fusion middleware and provides rich interactive dashboards with guided analytics, scorecards, trends, proactive alerts and report distribution.
Oracle Business Intelligence Applications (OBIA) is a collection of pre-built analytical reports and adapters with ERP applications that accelerate the deployment cycle. As a pre-built packaged solution deployed on OBIEE platform, OBIA can be adopted as a single department solution to start with and later extended seamlessly across the enterprise, or as an enterprise wide application. Since OBIA does not need development of a fully customized data warehouse, ETL, metadata and dashboards, it is an effective BI option for an organization in terms of cost and time.

Our Business Intelligence Services include:
Business Intelligence assessments of existing tools and provide recommendations for future potential solutions
OBIEE and OBIA implementations and upgrades
Discoverer to OBIEE Migration: Systematic approach for seamless migration of Discoverer reporting solution to OBIEE
Performance Tuning
Seamless integration with ERP
ANR has expertise in implementing enterprise wide reporting solutions spanned across multiple functions like Finance, HR, SCM, Procurement, Sales and Projects. ANR has helped customers with custom Data Warehouse and ETL solutions using industry leading tools such as Informatica, Oracle Warehouse Builder and other solutions.
Our immense experience and expertise in managing diverse engagements of varying complexity in Oracle BI has helped us partner with organizations as a trusted advisor.
ANR helps organizations plan, prioritize, design, implement, and deploy Business Intelligence solutions at both the enterprise and departmental level. Our consultants have years of real world experience implementing reporting, Data Warehouse, and Business Intelligence solutions across a wide-variety of industries.